Somtochukwu Ladydiana Okoye made this short video that talks about the effects of climate change in Nigeria and also suggests solutions that individuals can do to halt the effects of climate change.

PUBLICATION SERIES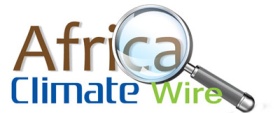 Africa Climate Wire seeks to give voice to the groups and communities most vulnerable to the impacts of climate change through stories that investigate the governance of climate change adaptation, national response strategies and finance for adaptation in Africa.
MEDIA HANDBOOK
Reporting on Climate Change
The Heinrich Boll Foundation Southern Africa Office, working with Inter Press Services (IPS) Africa has published a handbook for journalists titled Climate Governance in Africa. The handbook covers key tools for journalists who want to report on climate governance on the African continent and provides a succinct overview of the governance issues the continent has to contend with.