This article is licensed under Creative Commons License.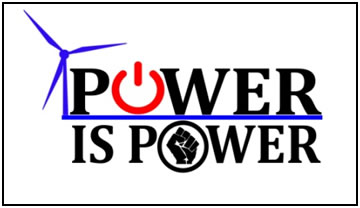 How is Nigeria going to get 200,000 MW in the next 15 years? Candidates for the 2015 elections are proposing solutions based on oil, gas and coal. Renewable energy does not feature strongly in energy policies. This POWER is POWER page looks at the economic and social implications of these power options.
WHY GREEN?
Why does Nigeria have to become green? 'Let's develop first, we can always go green later', many people would say, reflecting the fact that more than 100 million Nigerians are living on less than one dollar a day, whilst GDP has been rising by almost 7 per cent year by year. However, such a development approach ignores the fact that NOW is the time to balance the interests of current and future generations; to provide electricity to all 170 million Nigerians whilst maintaining a low carbon profile; to involve women in a new kind of agriculture; to offer millions of unemployed youth a liveable future that does not destroy their environment nor the planet. The Heinrich Böll Foundation works with Nigerian partners who are interested in bringing a new color into the Nigerian landscape: beyond the flag and beyond environmental protection, a green development concept should bring more equality and responsible resource management to Nigeria.
DOSSIER
Memorandum: Resource Politics for a Fair Future
How could a just and democratic resource politics look like that respects both planetary boundaries and human rights? The Memorandum "Resource Politics for a Fair Future" is the outcome of a two-year international dialogue process of the Heinrich Böll Foundation. Read more>>
GERMAN ENERGY TRANSITION
The share of renewable electricity in Germany's national energy mix rose from 6% to nearly 25% in only ten years. On sunny and windy days, solar panels and wind turbines supply up to half of the country's electricity demand. How can a thriving industrial economy switch from nuclear and fossil energy to renewables and energy efficiency?
Energytransition.de
Renewables on the Rise
For Reading Materials on the Energy Transition in West Africa
Click here...