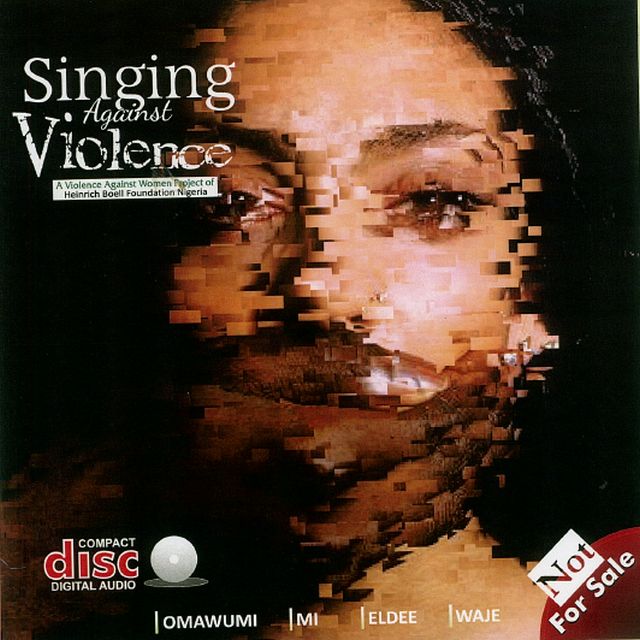 In Nigeria, the majority of cases that deal with violence against women are unreported so official statistics are unavailable but some figures state that as many as 1 in every 5 women is in an abusive relationship.
The Violence Against Women music project was launched to build women's self confidence, discourage men from gender based violence and to make society take notice and speak up instead of looking away.
Some of Nigeria's biggest musicians came together for this album with a violence-against-women theme.
The making of VAW Album


The four artists Omawumi, M.I, Waje and ElDee volunteered their services to the worthy cause and attended a workshop with survivors of violence, lawyers who deal with gender based violence and NGOs that help survivors. Faced with the real stories of women who had suffered abuse in their marriages and relationship, the artists understood the emotional issues involved but also took a matter-of-fact look at the legal framework and at men's attitudes.
MI – REAL MAN: These hands of mine are here to protect you!
"As soon as I heard of the project, I had the music in my head, the music just came to me… I had an idea of doing a song called Real Man, and what a real man is about is someone who is professing his love to a lady, telling her, I'm a real man, I'll never hurt you, I'll never hit you… A real man will protect her, provide for her…"
Waje - NEW MORNING: Last night, you hit me for the last time
 "To the man who will beat his wife, who will rape a woman on the road, who will molest a young girl, to all men who do inhumane things to women… honestly, I cannot pretend to you that I'll say, Oh my brother it's no good, please stop! – to be honest, it brings out the bile, I don't feel sorry for you… you will be brought to justice!"
Omawunmi - ENOUGH IS ENOUGH: How many times you dey use that black sunshade to cover your eyes?
 "It is not by force to stay in an abusive relationship. Move immediately, don't waste time! Report to the authorities, say No, and protect yourself. Because it is wrong."
El Dee de Don - GOOD MAN: Treat her like a lady, it's what a good man does
"I say this to everyone, to my sisters, to my mum, to my daughter, and I'll say the same thing to you: No one should allow themselves to be abused, it's not acceptable by any standards. Anybody who is abusing you… please figure out a way how to get out of the situation."
The tone of the resulting album is not pleading, but rather an empowering message for women, helping them to realize that they have a right to demand love, value and respect from their partners in both marital and non marital situations.
This album also seeks to build women's self esteem and inner strength and give a voice to their feelings. It is to help women to identify clearly their expectations in relationships,
To encourage women to realise and insist that they will no longer accept violence in marital and non marital relationships,
The album also encourages women to come to that point when they realise that they deserve more than they are getting and giving them the strength to take the necessary steps towards recovery,
The other perspective of the album also focuses on how beautiful and strong women are, and delivers a positive message on how women should be treated.
The album is strictly not for profit and we encourage you to freely listen, download, and distribute the songs to raise awareness on such a serious issue and take a stand against Violence Against Women.
hbs would like to thank the artists, their management teams and the crew at DLI Tuesday (who organised the activities on behalf of hbs) for their time, effort and their willingness to volunteer their voices for such a worthy cause.
Listen/download...
Real man by M.I
New Morning by Waje
Good Man by ElDee the Don
Enough is Enough by Omawumi