Interview
The internet can open up spaces for marginalised groups to strengthen their identities, exchange ideas, form communities, and organise themselves. In Nigeria, however, freedom of communication and information is increasingly being restricted. We spoke with queer security expert Azeenarh Mohammed about LGBTIQ rights, risk profiles, and the Twitter blackout.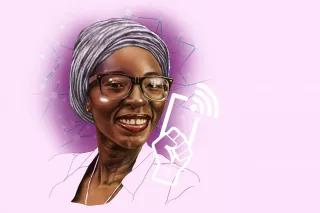 You consider yourself a "grassroots activist" working in the field of cyber security issues.  How did you get into activism?
Azeenarh Mohammed I consider myself a grassroots activist as – although I do organising and work at the global level and at the national level – the bulk of my energies, resources, and the funding that I work with still continues to be focused on local organising and building alliances. It is no secret that top-down approaches do not work. We have to ensure that we own the narrative, that we own the work, and that the work comes from the bottom up.
I have encountered the topic of cybersecurity at different levels. I am a lawyer by training, and my career goal as a lawyer was to use law and jurisprudence to improve people's lives. Initially, I advocated for women's rights in particular, before eventually specialising in the rights of the LGBTIQ community.
We were one of the first communities to define our community "online": On the one hand, as a place for friendship, exchange, and entertainment, but on the other hand also to access information about health issues concerning our sexual orientation. At the same time, the internet was not – and is not – a particularly safe space for LGBTIQ people. There is censorship, online tracking, and outright "traps" set for LGBTIQ people. That's why my activism started focussing on online spaces, specifically for LGBTIQ people and their needs. I have to admit that my use of the internet started a little bit blindly, because I was like "We'll take what we get." But that quickly changed with the realisation that, if the internet can be used "against us", the first priority must be to protect oneself and one's community.
What impact has digital technology had on your activism?
Technology has not made me an activist, but it has broadened the scope and range of my activism. The digital space allows us to connect with people and build alliances without having to physically meet. People we wouldn't have been able to reach otherwise are now much closer to us, and this makes the work a lot easier. When I worked for Tiers (The Initiative for Equal Rights) (editor's note: a Nigerian non-governmental organisation that advocates for the rights of sexual minorities), we were able to help people in dangerous situations immediately thanks to technology. People could report violations and abuses very quickly, and they could get the help that they needed much quicker. Ten years ago, LGBTIQ people had little protection from state or non-state abuses and limited access to community resources. This has improved dramatically with the internet and its tools.
How can digital technologies really empower activist networks and movements?
Technology does a good job of fostering connections between similar groups, activist, movements, and their allies. This has been shown to foster collaboration and cooperation. Technology also helps these groups to share and learn from one another, and it has been used by communities around the world for everything from raising awareness, raising funds, signing petitions, research and documentation, to just ensuring there is a witness. Digital technologies also give visibility to the work of a lot of grassroots activists. This visibility has inspired others, allowed more activists to learn and replicate them, and allowed for input from diverse voices in certain instances. The internet has also been a place of safety where groups can store information many times beyond the domain and access of hostile forces. There is a lot that digital technologies have done, and there is a lot more potential for what they can do, especially for groups that are still underrepresented.
Twitter enjoys great popularity in Nigeria and has played a key role in a number of social media campaigns – such as #BringBackOurGirls and the protests against police brutality (#EndSARS) last year. But only recently, the Nigerian government imposed a ban on Twitter. What is the current political context in which you work?
Right now, the political situation in Nigeria is a bit dire; civic spaces continue to shrink, both physically and online. The ability to organise is being heavily regulated and censored. There are many websites that are being censored or blocked in Nigeria. Those that talk about the Biafra War are heavily censored, as well as about abortion and LGBTIQ rights.
Twitter in fact is a heavily used website for political discourse in Nigeria. It is also a platform where there is a lot of organising, criticism, and holding people accountable. The scale of national and international mobilisation during the #EndSARS protests last year are a good example. In June 2021, the short messaging service deleted two tweets by President Muhammadu Buhari because they violated Twitter's guidelines. The government saw this as an attack on the state and had the platform blocked. But what this ban has done was to simply reduce easy access, because it hasn't prevented the use. Nigerians are still active on Twitter by adopting the use of VPNs (virtual private networks) and the TOR browser. But it has made the internet a class issue because VPNs are not free, and it increases your internet usage. So this means one needs to have a certain level of access, the knowledge to navigate a VPN setup, and flexible finances to be able to have access to this space of political discourse.
Twitter is not only important for political discourse in Nigeria, but also as a kind of news service. Information about COVID-19, fires, or other emergencies can be reported in real time. Since basic state social security systems are lacking here, help can be organised quickly and easily via the platform. With the ban, this function is severely limited. The government is therefore "cutting its own flesh" at the moment, and that is really regrettable.
The crackdown on the internet is merely an extension of the restrictions in "physical space", and it shows that the government is determined to do anything to silence critical voices.
What would you say are the main challenges of the internet, especially with regard to cyber security?
The challenges are multiple and dependent on the person and their particular "risk profile". For example, the risks of a human rights defender are completely different from that of a journalist, or from someone who is running a business using the internet. Usually for frontline defenders – activists and journalists – the dangers are usually about putting their sources at risk, about losing access to data, and about being targeted both by state and non-state actors.
There has also been an increase in online violence, incidents such as slut shaming, bullying, and doxing (editor's note: disclosure of identifying information about an individual on the internet) were targeted especially against LGBTIQ people and women. 
Like everywhere else in the world, cybercrime and especially "identity theft" are huge problems in Nigeria. The internet is full of people who try to impersonate someone else and trick gullible people into sending them money (scamming). In recent years, actual "ransomware" has been developed to make people lose access to their devices and data, and the can only get it back when they pay a certain amount. There are many more risks – they are exceedingly complex and exist in parallel. And depending on people's risk profiles, they can either cause huge damage or just be averted.
What is your personal message for young activists who work in and with cyberspace?
Stay innovative! The world is full of opportunities, don't be afraid to use them! There are many paths and channels that the internet can open for us. Cyberspace is only as far as we can dream. Go for it! I wish more people would decide to just do it.
Another message is: Form alliances! We need more people to share their skills and knowledge. I see a lot of African programmers and people working in cybersecurity and technologies, all working remotely and having a global perspective on things. And I think more needs to happen. We literally live in a globalised world today, where things that happen in Germany, for example, have an impact on things that are done in Nairobi. And vice versa. We need to prioritise this learning and sharing.
---
Azeenarh Mohammed is a lawyer and grassroots activist. She works as a holistic security trainer working with marginalized groups in sub-Saharan Africa. With her trainings, she especially supports human rights defenders and organizations working for equality and acceptance.