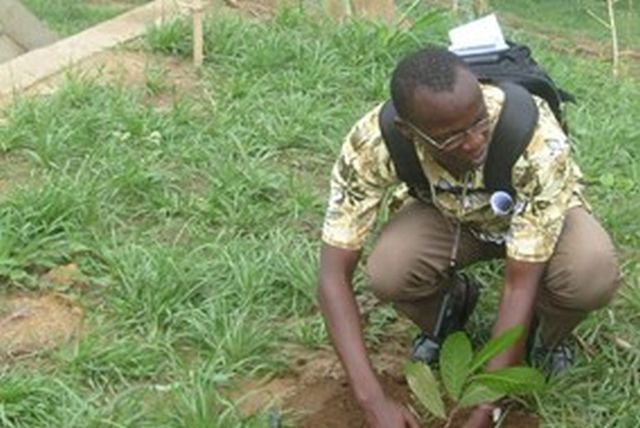 In this study we also examined the strength of the few climate change institutions and agencies in Nigeria and the level of their preparedness to put Nigeria in the position of adequate response to climate change. Other critera used to evaluate Nigeria's adaptation capacities include (i) the involvement of the political class in climate change issues, (ii) level of public awareness, and (iii) the level of participation of different climate actors, including government and non-governmental organizations, private sector operator and development partners. We made a short comparative analysis of the Nigerian situation with the situation in Ghana based on the available public information on the latter country.   
In general, Nigeria has many policies, strategies and plans that can address general adaptation measures in some climate change vulnerable sectors such as agriculture, water resources, forests and ecosystems, and coastal marine environment. However, the policy framework to align human development and climate change response efforts through adaptation is largely undeveloped in the country. The country's institutional capacity to respond effectively to climate change is weak. Apart from the SCCU in the Federal Ministry of Environment and a few institutions at the national level (e.g. NIMET and the Climate Centre in Minna), there is no formal institutional structure at state and local government levels to address climate change. Even then, the capacity of SCCU to drive and coordinate national climate change response is weak. There are very few people with proven competencies in the Unit and facilities remain inadequate. Furthermore, the national institutions, including the SCCU, are not properly funded. 
Unlike Ghana, Nigeria has not been able to develop a structured approach to climate change adaptation. Ghana was able to do this through the implementation of Netherlands assisted Climate Adaptation Programme (NCAP) that enabled the country to undertake detailed vulnerability assessment of various sectors. The implementation of NCAP has also enabled Ghana to develop a National Climate Change Adaptation Strategy. Nigeria has no National Climate Change Policy and Strategy that should have presented Nigeria's current and future efforts to address climate change vulnerability and adaptation. The First National Communication was produced November, 2003. A stakeholders' initiation workshop on the second National Communication (SNC) took place in December 2006, but it is yet to be finalized, and may not be so until sometime later in 2010.
The closest Nigeria is to having an acceptable adaptation response framework is a working document on Adaptation Strategies of Action prepared by HBS for the Special Climate Change Unit (SCCU) of the Federal Ministry of Environment, the Nationally Designated Authority for climate change in Nigeria. But there is no clear indication that the document has been adapted as a national plan of action.
There are many climate actors in the country, but there is no platform or framework within which they can operate in a coordinated manner for meaningful impact. A number of ongoing initiatives by different actors remain largely un-coordinated by the nationally designated climate change authority. 
Nigeria must address a number of capacity limitations that have been pointed out in this report. Significant effort needs to be made to develop further capacities designed to strengthen Nigeria's climate change adaptation governance. The Heinrich Boll Stiftung (HBS) is a valuable international partner that can help Nigeria to build capacity in relevant government agencies at all levels (national, state, local) to strengthen the country's capacity to develop and implement adaptation response strategies and plans that would her reduce her vulnerability to the impacts of climate change. In this regard, HBS may consider supporting Nigeria to:
1. Undertake a detailed and methodology-proven sectoral analysis (e.g. coastal and marine environment, agriculture, water resources, land management, human health, gender etc.) of Nigeria's vulnerability to climate change and propose realistic adaptation response strategies and initiatives (programmes and projects at all levels, including community-based activities).
2. Enhance its institutional response capacity by providing support to the development and implementation of a capacity building project or initiative for a coordinated institutional response to climate change that will have functional structures at the national, state and local government level, using exiting relevant institutions and agencies (i.e. develop and implement a capacity building initiative for the SCCU or the proposed Climate Change Commission to function in a similar manner to NACA).
3. Successfully mainstream or integrate climate change adaptation into the Vision 2020 and other National Development planning documents.
4. Increase awareness and capacity among Nigerian politicians, policymakers and other key stanigeria_prof_oladipo_final_cga_study.pdfkeholders to address climate change adaptation within Nigeria's development process.